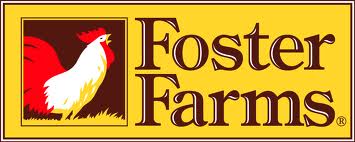 Salmonella Investigation Focusing on Foster Farms Plants in California and Washington
Foster Farms is now being investigated for the occurrence of at least 124 cases of Salmonella Heidelberg cases in 12 states, though the epicenter of the outbreak is in the Pacific Northwest.
Foster Farms has production facilities in Oregon, Washington, California and Alabama—though reports out of Washington State indicate that the contaminated chicken comes from the Washington and California plants.  The investigations by the Washington and Oregon health departments are serving as the foundation of the Centers for Disease Control and Prevention (CDC) investigation as it attempts to definitively link the outbreak to Foster Farms raw chicken in cases pending across the nation.
The company, Foster Farms, remains defiant and no recall has been issued.  Foster Farms, while acknowledging that salmonella is present in (at least) 3% of the chicken it sells to the public, still insists its product is safe for consumption.  On its website, Foster Farms states: "Foster Farms reminds consumers that raw poultry should not be allowed to cross-contaminate other foods or food preparation surfaces. All raw poultry products should be prepared according to package guidelines and cooked to at least an internal temperature of 165 degrees F to guarantee that they have been fully cooked. Following these guidelines will ensure the safety and quality of all raw poultry products."
It is well known that raw chicken can carry salmonella, and that a producer can sell some chicken with salmonella on it as long as it passes the United States Department of Agriculture, Food Safety and Inspection Services' standards.  But it is never acceptable to sicken a consumer.
Food poisoning lawsuits, under theories of strict liability and negligence, are often brought when innocent consumers are sickened by salmonella in the food they eat.  Foster Farms will likely face a slew of food poisoning lawsuits over this outbreak, in which the investigation by the Washington and Oregon departments of health will provide pivotal information for a food poisoning lawyer prosecuting a claim for his clients.  In fact, the conclusions of the trace-back investigations, and the evidence of the occurrence of salmonella in the Foster Farms raw chicken (which will become available during the discovery phase of any food poisoning lawsuit that gets filed), will help identify the victims in this outbreak and help them recover for their loses.
Heavy Impact on Washington State: 56 Confirmed Cases
Since June of 2012, at least 56 people in Washington have contracted salmonellosis from the ingestion of Salmonella Heidelberg. Salmonella is one of the most common causes of bacterial foodborne illness, and accounts for 600-800 reports of food poisoning in Washington each year.  But in this instance, the occurrence of so many cases all from a specific (and relatively rare) form of salmonella caused health officials in Washington to take note.  The investigation began after reports of individuals, sickened by this same strain of salmonella, began to pour in.  Investigators already knew that salmonella in raw chicken is neither uncommon nor is it limited to any one brand.  But when interview after interview began to lead investigators back to a single producer of a single product, they knew they had an outbreak on their hands and not just isolated instances of salmonella poisoning.
The company whose name kept reappearing was Foster Farms.  At first, health officials hesitated because, according to at least one report, they knew that the U.S. Department of Agriculture allows the sale of raw poultry that contains some salmonella. But the number of illnesses kept climbing, and soon fifteen Washingtonians had been hospitalized.  This was not just a case of an individual getting food poisoning from an unknown source.  It was clear that raw chicken from Foster Farms was sickening individuals at an alarming rate—especially when only about 1 in 30 of all salmonella cases actually gets reported. It was at this moment that investigators in Washington State, along with their Oregonian counterparts, decided to call in federal agencies.
In Washington, the investigation continues in conjunction with health departments of other states and the federal government.  And so do occurrences of illness—while there was a drop off in reports over the winter, many fear the spring and summer seasons will give rise to many new reports.  As most food poisoning attorneys know, salmonella cases are often cyclical, with large rises in salmonella illnesses in spring and summer.  In addition, chicken can also be frozen, and freezing does not prevent the spread of salmonella.  According to Ron Simon, a national food poisoning lawyer, "we have likely not seen the end to the Foster Farms Salmonella Heidelberg outbreak."   And while the lawsuits related to this outbreak have not yet been filed, that is very likely to change in the ensuing weeks and months.
Oregon Also Sees 56 Salmonella Heidelberg Cases in 2012
A similar story was playing out just south of the Washington State line, in Oregon.  In 2012, Oregon had also recorded 56 cases of Salmonella Heidelberg infection, though the ongoing investigation has only definitively linked 43 of those to Foster Farms at this time.  The victims come from over half of the counties in Oregon, including: Multnomah County (7), Washington County (6), Clackamas County (5), Marion County (5), Deschutes County (4), Wasco, Lane and Douglas Counties (2 each), and Columbia, Tillamock, Polk, Limm, Coos, Josephine, Lake, Harney, Morrow and Union Counties (1 each).
The occurrence of 56 cases represents an over 100% increase in the annual occurrence of Salmonella Heidelberg in Oregon, with the years 2007 through 2011 averaging 27 reported cases of Salmonella Heidelberg each year.  This represents a statistically significant increase.  Oregon officials immediately noted they had a problem.  And like in Washington State, the trace-back investigation was pointing over and again to a single producer, Foster Farms.
According to Dr. Paul Cieslak, an acute and communicable disease manager for Oregon Public Health, "this was a sizeable outbreak . . . It was a prolonged one."  Oregon officials, in spite of there being no recall, and the likelihood of new cases in the spring and summer months, also note that the "spike" in cases (late September) appears to have subsided.  Dr. Cieslak even notes that Oregon has not received any new cases since November. It remains uncertain what the spring and summer will bring, however.
"Zero Tolerance" for Salmonella
The outbreak serves as a reminder that the food supply in American remains vulnerable.  "The 2012 salmonellosis outbreak is a wake-up call," says Dr. Paul Cieslak.  This is a sentiment shared by food poisoning attorney Ron Simon, who has been advocating a zero-tolerance of salmonella in chicken for years now.  "It is unacceptable that families should sit down to eat dinner and then spend days or weeks suffering from this preventable illness," Simon commented.  Simon, who has represented numerous chicken-related salmonella victims, adds "there will be food poisoning lawsuits related to this outbreak, and every outbreak, until the industry takes responsibility for the food they put on the American table."