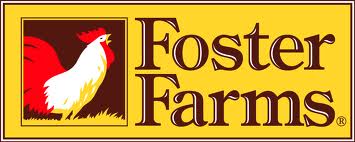 Foster Farms at Center of Major Outbreak of Salmonella Heidelberg
The United States Department of Agriculture (USDA) has been keeping an eye on Foster Farms for some time now.
According to reports, the USDA contacted the company in October of 2012 about the salmonella outbreak that started in June of 2012, centered around the states of Oregon and Washington.  This fact was confirmed by Robert O'Connor, a veterinarian and lead food safety specialist for Foster Farms who spoke to the Oregonian, an Oregon newspaper.  He said 43 recent tests on Foster Farms chicken products did not turn up salmonella, and he boasted that "our performance is and has been excellent."  He also told reporters: "We regret any illnesses that might occur," but added that "this is raw poultry. Raw poultry by its nature can contain bacteria. It's of utmost importance that people handle it properly in the kitchen and they cook it to the proper temperature."  Although he may be correct, this fact alone will not be able to shield Foster Farms from what some food poisoning lawyers anticipate will be numerous lawsuits in the coming months.
"Salmonella in chicken is legal except when you have an outbreak"
Foster Farms had been in this situation before.  In 2003, the State of Oregon began to randomly test chicken at stores in and around Portland, OR, for salmonella and other pathogens.  During one of those inspections, the state lab Oregon health officials were utilizing to conduct the tests determined that Salmonella Heidelberg, the same strain of salmonella in this new outbreak, was in the raw chicken from Foster Farms. Emilio DeBess, a state public health veterinarian, told the Oregonian that the next year they linked the first reported illness to Foster Farms. In the ensuing years, until 2011, approximately 27 cases of illness were linked to Foster Farms annually.
Ironically, Foster Farms boasts of having a low level of salmonella in their chicken, at only 3.3% occurrence level—this according to their webpage.  They note that this is below the 5% allowable salmonella rate set in the government's Food Safety Assessment program (other sources indicate a 10% occurrence rate is even acceptable).  But even though a product can be sold with salmonella, "Salmonella in chicken is legal except when you have an outbreak," Oregon's DeBess reports.  In short, it can be sold, but doing so is risky because of the possible consequence of federal regulatory action or a lawsuit.
"A company can take the chance that the small portion of their product that is infected with salmonella will not hurt the public, but this is a huge gamble," says Ron Simon, a national food poisoning attorney who has prosecuted food poisoning claims across the nation.  "The idea that you can sell a product while aware that a certain percentage of that product can seriously hurt or even kill your customers is unacceptable," Simon added, noting "if you take that chance as a company, some day you will have to face the lawsuits of angry, aggrieved customers."
Investigation Started at Request of Oregonian Health Officials
As was reported earlier today by Ron Simon, the outbreak has been ongoing for 8 months now, with a spike in late September of 2012.  According to Dr. DeBess, it was that spike in September (in which Oregon alone counted 9 new cases) that prompted the states of Oregon and Washington to request the CDC's involvement. DeBess and others approached the CDC and an investigation was launched in the two Northwest states.  Now, with reports of injuries in 12 states, the investigation continues to grow.
According to Dr. Paul Cieslak, an acute and communicable disease manager for Oregon Public Health, "this was a sizeable outbreak . . . It was a prolonged one."  Dr. Cieslak also noted, however, that Oregon has not received any new cases since November.  In other states, however, the cases have continued and the current victim count is 124.  If the CDC estimation of 25 unreported victims for each reported victim hold true, this outbreak likely has impacted 2500 individuals.  And the outbreak is not over.  While there was some slow-down in the winter months, as salmonella cases traditionally drop during this period, some cases were still being reported.  And cases reported in the 2013 are in all likelihood not included in the current CDC numbers (the last case included in those numbers in from the first week of January 2013).  Many health officials expect that the number of cases will rise as spring approaches.
One-in-Three Hospitalized, No Deaths
So far this outbreak has caused severe injuries but no fatalities.  The victims have ranged in age from less than a year to 94 years of age, and about 33% have reported hospitalization.  This includes 16 people in Oregon and 15 in Washington that were hospitalized.